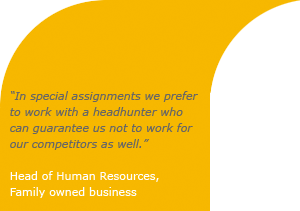 > Executive Search
Value Adding Executive Search
Executive Search can add value if the consultant himself has leadership qualities and is responsible for what he is offering. This is why all my assignments are lead by myself. I only present candidates I have interviewed and evaluated myself.
I am therefore often assigned when a project needs exceptional personal commitment.
I am independent and I focus on a limited amount of clients who value my discretion and loyalty. Off-limits and no-touch issues are therefore minimized and I can avoid the typical conflicts of interests of big consulting companies.