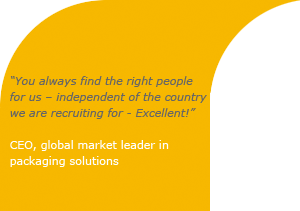 > Executive Search > Clients
As an Executive Search consultant I recruit executives for all kinds of companies
Since I have successfully placed executives across different industry sectors and management functions I consider myself a well-versed generalist.
My special functional expertise lies in communications, public affairs, marketing, and sales positions.
I work for both corporate and agency clients.
Besides my assignments in Germany I help German global players recruit local executives for the position of Country Manager. I conduct these assignments - identifying, contacting and interviewing candidates - with my own resources, without involving external partners. During the last years, I have placed executives in about 20 countries.
Modern foundations are nowadays managed with the same professional methods as corporations. Hence the demand for recruiting top positions for corporate or private foundations is constantly increasing.