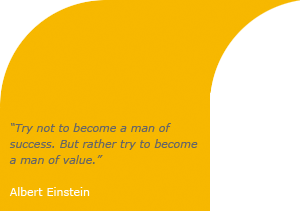 > Executive Search > Service Commitment
I am known for professional transparency and loyalty as well as for my personal commitment
Trust built on Transparency: I aim to be transparent as well as discreet, and will not accept unhealthy compromises. I thoroughly explain to clients how I work and what they can expect from me - and what they can't expect. I submit to clients curriculum vitae only of executives who have authorised me to do so, and I only mention projects and contacts towards candidates that I really have.
Guaranteed Loyalty: I am independent and owner-managed and focus on a limited amount of clients. Off-limits and no-touch issues are therefore minimized and I can avoid the typical conflicts of interests of big consulting companies. I stand for discretion and loyalty.
Personal Responsibility: I only present executives who have been interviewed and evaluated by myself. As part of my core competence research and identification of candidates is being done by myself and not by external suppliers.
Advising instead of brokering: I do not "deal" with CVs. I only present carefully selected and evaluated candidates and advise my clients during the selection and on-boarding process, including the use of reference checks and coaching during the first 90 days into the new job.
Tailor-made Services: I assume every assignment to be unique and I adapt my processes to clients' needs. Instead of working with standardized candidate "long-lists", I present only those executives whose qualifications and specific interest in the position I have checked beforehand.